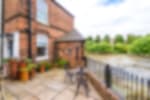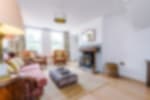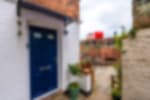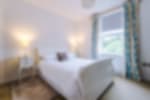 Elegant Riverside Cottage in the Heart of Chester
This beautiful property is located just a 5 minute walk over the river into the very centre of Chester. Not only is the property very close to the city centre, but it is also stones throw away from local amenities in Handbridge. With shops, delis, pharmacy, cafes, butchers and pubs on your door step you will find the supplies you need for your stay.
The property itself is beautifully and classically decorated. You will find a cosy and elegant living room with a log burner and beautiful views right on to the river.
Whilst there are many incredible restaurants in Chester, the kitchen is equipped with everything you should need to cook a meal in with family, friends or colleagues, including of course, plenty of wine and prosecco glasses! The dining space also has wonderful views straight onto the river.
Upstairs are two stylish double bedrooms. Fresh white linen and clean towels will also be provided for you.
There are modern bathrooms - one with a shower cubicle and the other with a free standing bath and shower.
Due to the central location of the property, there is not parking onsite. You will find parking on some residential streets in Handbridge. Alternatively you can park at the Little Roodee 24hr Carpark which is just a short walk away along the river.