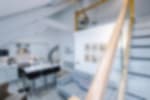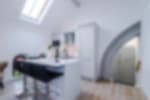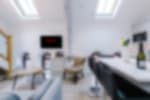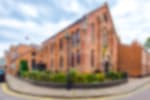 This beautiful 2-bedroom apartment is located in the very centre of Chester, inside its Roman walls and a stones throw away from restaurants, bars, cafes and shops.
The apartment itself is located within a stunningly converted chapel - originally a Victorian Welsh Congregational Chapel built in 1866, the property boasts intricate architectural details and has a distinctive and dramatic gothic style. The building has been renovated to provide a contemporary and classy feel.
★Upon arrival you will be welcomed by a well-kept communal garden and entrance. After making your way up the stairs to the property itself you will be greeted by an open plan living/kitchen spaces, complete with finely carved timber work and period style stained glass and leaded effect windows.
★Whilst there are many fantastic restaurants to enjoy in Chester, the high-end kitchen is well equipped to cook a meal in. There is also a unique utility space off the kitchen.
★Down the hall you will find a double bedroom and a modern bathroom with shower.
★Above the living space is a mezzanine 2nd bedroom with a single bed and pull out second bed (both with comfortable, premium mattresses).
★The property is not only in the heart of Chester city centre, but it is also a close proximity to Cheshire Oaks designer outlet village and the City of Liverpool with its rich maritime history.
★With river bank walks, shopping, sight-seeing, good food and nightlife within a short walk, you will be kept busy, but will have a relaxing home to come back to after a long day! You will of course also be a short drive from Chester Zoo and the beautiful Cheshire countryside.
★We are here to help and would be happy to give recommendations for restaurants, bars, good country pubs, Cheshire walks and must see sights! The welcome book located in the house will provide you with many recommendations on your arrival, or please request beforehand.
★There is a 24hr car park located opposite the entrance - we will provide more details of this upon booking.
★Alternatively, the train station very short taxi ride away or a 15 minute walk to the house.